BOXYARD
238 N 4th Ave
Phone: 1-520-306-1686
Latitude: 32.224723
Longitude: -110.965396
The Boxyard is a full-service bar with 4 restaurant concepts.
Unparalleled outdoor seating and second-story views make The Boxyard a true Southwest Gem.
Come feast on one (or all!) of our local food vendors. Each food concept is individually owned and operated; a design that allows each vendor to create their own unique specialties, prepared in a made-to-order fashion.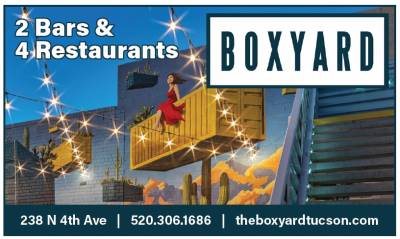 ---
Features:
Outdoor Courtyard Bars Restaurants Variety Live Music Coffee